Opportunity for Smaller Medtech Companies to Expand East
The growing market for Medical devices globally and the challenges faced by smaller companies while entering the Japanese market. It highlights the benefits of outsourcing to a Designated Marketing Authorization Holder (DMAH) for regulatory compliance and success in the Japanese market. AKT Health offers specialized consulting services, including DMAH, in-country caretaker services, QMS development, medical affairs, marketing strategy, clinical trials, and regulatory affairs to help medical device companies navigate the complex regulatory landscape and achieve their business goals in Japan.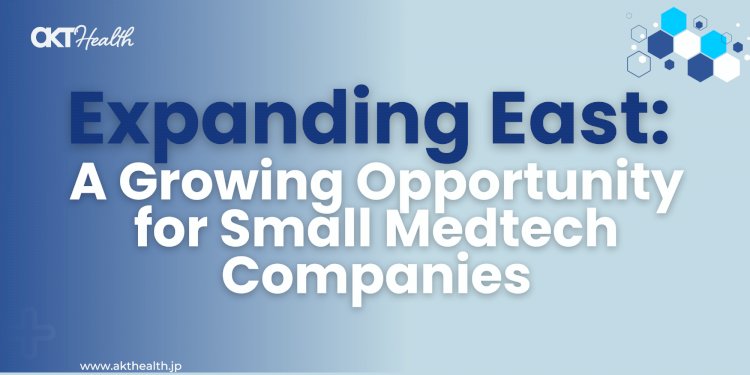 The Global Market for Medical devices is growing at an unprecedented rate, driven by a growing demand for innovative healthcare solutions. With the United States and European Union accounting for the majority of the market share, the third largest market japan must be addressed. However, entering the Japanese market has traditionally required a significant financial investment or relying on Japanese distributors.
Fortunately, outsourcing to a DMAH (Designated Marketing Authorization Holder) may be a practical solution for smaller companies to meet regulatory requirements and compete in the Japanese market. Despite its reputation for being a closed and challenging market, Japan's introduction of the DMAH system has created new opportunities for middle, small, and virtual companies. By taking advantage of these opportunities, smaller Medtech companies can expand their reach and achieve long-term success.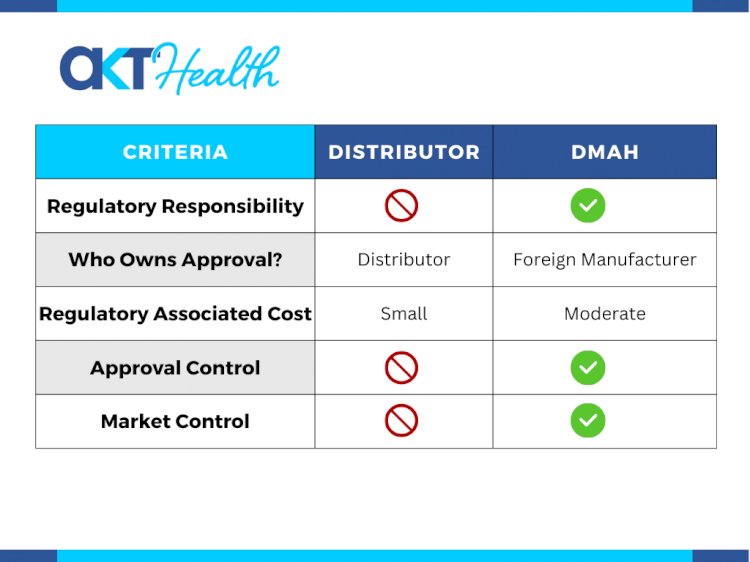 Table: Comparison of capabilities and related factors for Distributor and DMAH
At AKT Health, we understand the unique challenges that medical device companies face when entering the Japanese market. That's why we offer specialized consulting services to help our clients navigate the complex regulatory landscape and maximize their chances of success. The DMAH service is designed to help medical device companies obtain and maintain marketing authorization for their products in japan. As your designated representative, we will work closely with the Japanese regulatory authority to ensure that your products meet all of the necessary safety and efficacy standards. We will also help you prepare and submit all required documentation, including technical files, clinical data, and labeling information.
Our in-country caretaker services are designed to help medical device companies conduct clinical trials in japan. We will provide you with a local representative who will act as your liaison with Japanese regulatory authorities and help you navigate the country's complex legal and cultural landscape. We will also help you recruit and retain study participants, managed study logistics, and ensure compliance with all relevant regulations and guidelines.
In addition to DMAH and in-country caretaker services, AKT Health also offers a wide range of other consulting services to support Medical device companies throughout the product lifecycle. Our services include:
Intellectual Property Strategy (IP Strategy): We help you develop a comprehensive intellectual property strategy that protects your innovations and maximizes your commercial potential

QMS Development: Design and Implement a quality management system that meets all of the relevant international standards and regulations

Medical Affairs: We help you develop and execute medical affairs strategies that support your product development and commercialization goals and also help to establish and maintain relationships with key opinion leaders, healthcare professionals, and regulatory authorities in japan.

Marketing Strategy: We help to develop and execute a comprehensive marketing strategy tailored to the Japanese market, including market research, competitive analysis, and promotional activities which help you reach your target audience and maximize your market penetration.

Clinical trials: We can help you design and conduct clinical trials that generate high-quality data and meet all of the relevant regulatory requirements.

Regulatory Affairs: We can assist clients in obtaining regulatory approval for their medical devices in Japan, including the preparation and submission of documents for designated marketing authorization holder (DMAH) and pre-market approval (PMA)application
If you're looking to enter or expand in the Japanese medical device market, AKT Health's specialized expertise and comprehensive services can help you achieve your business goals. Contact AKT Health to learn more about how they can help your organization succeed in Japan.