Global Virtual Healthcare Summit 2022: Redefining Digital Health Innovation hosted by AKT Health Analytics
Global Virtual Healthcare is gearing up to launch the 3rd Global Virtual Healthcare Summit 2022 on the 9th of December 2022 at 10:00am IST onwards
Global Virtual Healthcare Summit 2022
On behalf of the organizing committee of GVHS, AKT Health Analytics will be hosting the 3rd Global Virtual Healthcare Summit 2022 Virtual event on the 9th of December 2022, which brings together the most progressive people from healthcare Institutions, individuals from Pharma, Clinical firms, subject matter experts, Business leaders, regulators of the healthcare sector, and technology solutions providers across the global health ecosystem Under the theme of Redefining Digital Health Innovation, the summit will focus on hot topics such as Artificial Intelligence, IoT, Blockchain, Data Security, Virtual Reality, Cloud, Digital Health, Medical Innovation, Future of Healthcare and many more.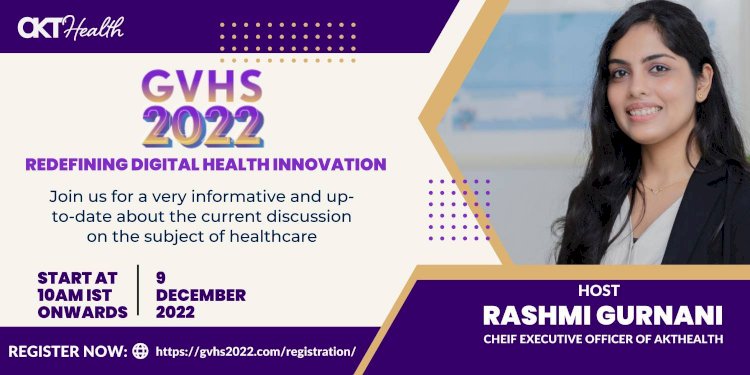 Join us from 10 AM IST onwards, for a free virtual event, in which you get the opportunity to listen and learn not only from established players but innovators who are breaking down barriers to healthcare by addressing the global health challenges and the solution and exploring healthcare space topics through sessions that will highlight some of the most global health challenges, emerging technologies, blockchain, and digital transformation in the healthcare domain.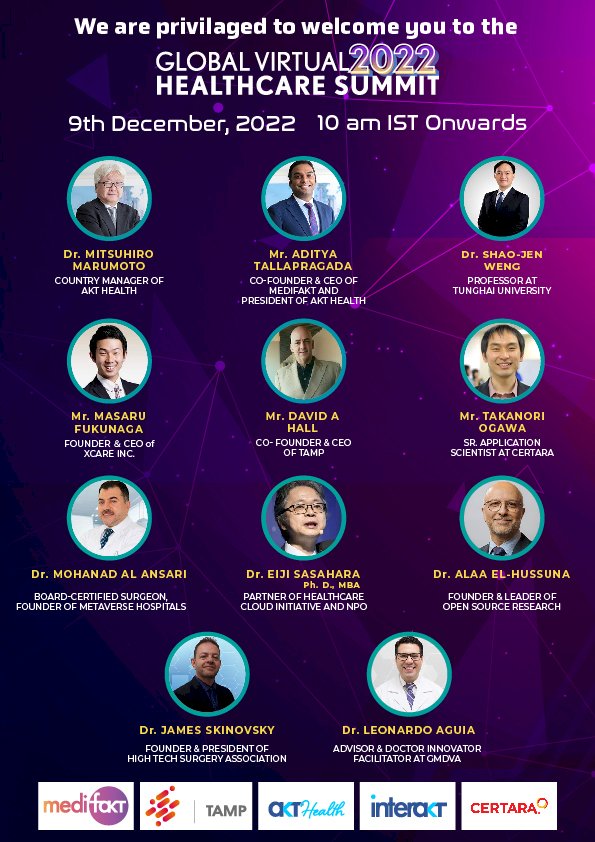 Some noteworthy topics include:
Innovative Healthcare Management Systems for Hospitals

Experts Platforms for Medical Innovation

Digital Transformation in Product Lifecycle

Doctor Innovators Co-Designing & Co-Creating a New Innovative Digital Healthcare Ecosystem

Cloud-Native Security on Digital Health

Certara RsNLME capability and its use case

Human Anatomy Project using simulation models.

Virtual Reality: Importance and Advantages of Virtual reality surgery

Enhance Patient Experience through data-driven transformation

How might VR/AR be at the center of the Digital Care Cycle?
To know more about how emerging technologies are helping to shape the future of the healthcare sector by solving key challenges of interoperability, efficient workflows, Virtual Reality, Medical Innovation, and data privacy and security, please Join us for this one-day virtual event as it's a free-to-register summit for individuals from various walks of healthcare, life sciences, and the Pharma industry.
You can complete your free registration at https://gvhs2022.com/registration/
Please find the speaker list here https://gvhs2022.com/#speakers
For more information on registration, sponsorship, and partnerships, please email the team at support@gvhs2022.com
We are looking forward to your participation!