Certara's India Virtual Phoenix User Group Meeting
The Phoenix virtual user group meeting will share Phoenix's best practices, specific use cases, an overview of the Phoenix roadmap, and more. Presentations will be led by Certara's Phoenix subject matter experts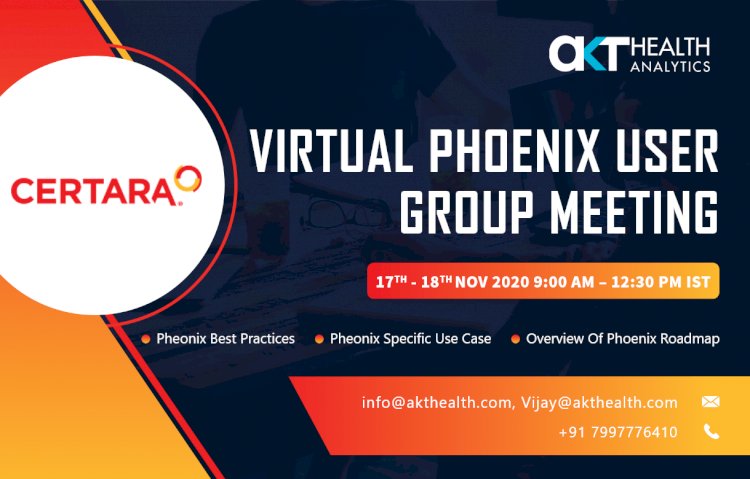 AKT Health Analytics is excited to bring you another virtual session this year! Our partner Certara is conducting a Virtual 2-day session on the 17th and 18th of November 2020.
Certara is a leading drug development consultancy with solutions spanning the discovery, preclinical and clinical stages of drug development. It has a wide range of Phoenix products (WinNonlin, IVIVC, NLME, etc) that help in BA BE study data analytics and PK PD data tabulation analysis.
The Phoenix virtual user group meeting will share Phoenix's best practices, specific use cases, an overview of the Phoenix roadmap, and more. Presentations will be led by Certara's Phoenix subject matter experts and will allow attendees to engage in live questions and answers.
At this prestigious event, the participants can get an opportunity to
Participants will be eligible for a Phoenix free license raffle by attending both days and submission of a feedback survey.

Certificate of Attendance will be delivered if you join for two days.
The session has presenters from Certara directly where you can learn about the Phoenix platform, WinNonlin, and IVIVC.
You can find full details of the session at this link https://lp.certara.com/rs/850-WNV-395/images/Agenda__Certara_UGM-India-2020_2020Nov.pdf
Please register for the meeting at https://lp.certara.com/2020-11-VirtualPhoenixUGM-India_LP-Registration.html. These are free to register sessions for individuals for all the existing users as well as individuals from pharma, CROs, R&D, universities, and the like. To attend both sessions, you must register for both days.
For more information please write to info@akthealth.com